Belum beberapa lama, Dropbox meluncurkan versi beta dari aplikasi email client-nya, Mailbox, untuk pengguna Mac. Kali ini, Google yang berusaha menggoda pengguna Gmail dengan Inbox. Inbox by Google adalah email client untuk Android, iOS dan web users. To be frank, I love it!
Ada banyak fitur yang ditawarkan Inbox. For starters, email yang masuk otomatis dikelompokkan berdasarkan isinya. Email promosi, update, dan notifikasi dari situs social networking tidak lagi memenuhi inbox atau diletakkan di tab (folder) terpisah. Semuanya terlihat di halaman utama Inbox tanpa melupakan email-email penting.
Inbox juga menampilkan highlights dari semua email yang masuk. Pengguna tidak lagi harus membuka email satu-satu untuk mengetahui isinya. Sebagai gantinya, Inbox menampilkan cuplikan bagian yang dianggapnya penting agar email mudah dibaca. Jika isi atau attachmentnya dirasa menarik, pengguna cukup klik di highlight untuk menampilkan sisa email tersebut.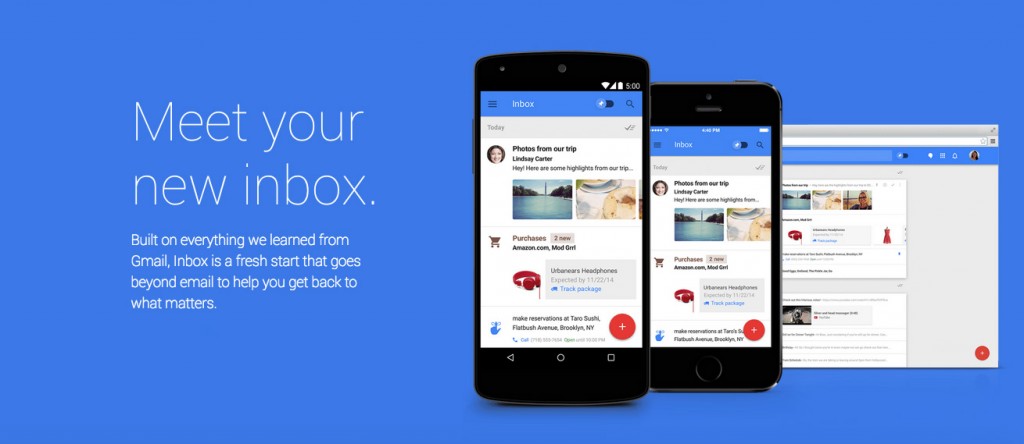 Fitur kesukaan saya? Tetap Snooze! Sama seperti di Mailbox, snooze di Inbox memungkinkan kita membalas email lain waktu tanpa harus takut lupa. Inbox akan otomatis mengingatkan kita untuk membalas email tersebut sesuai dengan setting yang kita masukkan. Ada juga folder Snoozed yang bisa diakses kapan saja.
Inbox adalah mailbox yang content-sensitive. Selain email, aplikasi baru ini juga bisa menyimpan reminder secara pintar. Inbox terkoneksi langsung dengan Google Now dan beragam layanan Google lainnya. Khusus Google Now, sangat menyenangkan melihat reminder yang kita buat di Inbox otomatis muncul di Google Now, lengkap dengan konteks dan informasi pendukung. This is super cool!
Sayangnya, Inbox masih dalam tahap beta. Kamu bisa mencobanya dengan mendapatkan invite ke Inbox. The good news is: I'm sharing my invites. Silakan tinggalkan alamat email dan ID Twitter di kolom komentar. Tiga orang yang beruntung akan mendapatkan undangan untuk mencoba Inbox by Google.
Update
All invitations sent! Terima kasih yang sudah pada ikutan.