The long awaited news is here: Mailbox akhirnya tersedia untuk Mac! Sejak pertama diluncurkan untuk iOS dan Android, I really love this app. Berbeda dari email client lainnya, Mailbox hadir dengan interface (dan fitur) sederhana tapi mengena.
Satu yang saya sangat, SANGAT, suka dari Mailbox for Mac adalah fitur Snooze untuk email. Ketika ada email masuk, dan saya ingin membalasnya nanti, saya bisa perintahkan Mailbox untuk mengingatkan saya. Fitur ini membantu sekali, terutama buat saya yang sering lupa. Remindernya pun bisa diset sesuai keinginan, mulai beberapa menit hingga beberapa hari.
Kerennya lagi, Mailbox for Mac juga bisa mengirim reminder ke ponsel. Kali berikutnya saya membuka Mailbox di Android, akan ada reminder untuk segera membalas email yang saya tandai tadi. Pretty cool!
Interfacenya? See for yourself. Putih, bersih, accessible; nyaris sempurna. Ada beberapa hal kecil yang lumayan mengganggu. For starters, Mailbox hanya mendukung akun Google atau iCloud. Jeleknya lagi, Mailbox juga belum mendukung Google Aliases.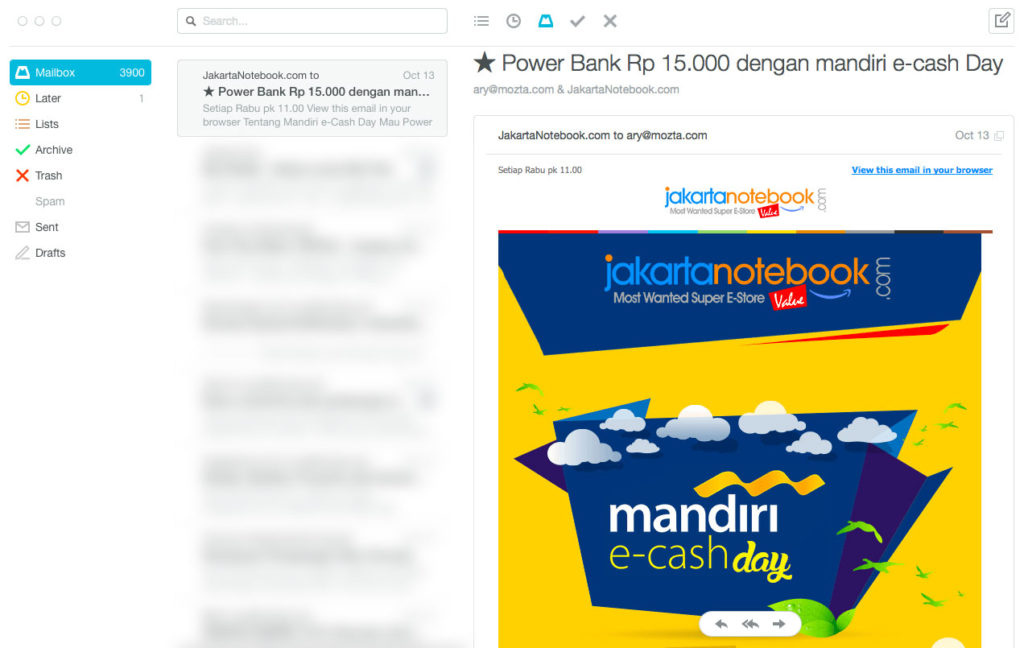 Hal mengganggu lain adalah email counter dan badge milik Mailbox. Meski bisa diset untuk menampilkan jumlah email yang belum dibaca saja (sebagai angka 1), Mailbox malah menampilkan jumlah seluruh conversation di Inbox. Ini karena Mailbox memang lebih fokus pada conversation, memudahkan kita untuk fokus pada hal yang penting sementara email yang kurang penting disimpan rapi di folder Later dan Archive.
All in all, Mailbox for Mac is a very good app; definitely one I've been waiting for. Fitur Snooze-nya sudah cukup untuk membuat saya rela sedikit lebih repot dari biasanya. I'm even considering Google Apps for Business, supaya email berdomain mozta.com bisa digunakan di Mailbox juga. Perhaps I'll give that a try later.
In the meantime, kamu bisa ikutan mencoba Mailbox for Mac dengan mengunjungi mailboxapp.com. Trust me, you'll love it!